Introduction
Bikes in India are not just a means of transport anymore. They are the means of showings once prestige, rage and royalty in society. May he or she is a young teen with rage who loves rage speed and glamour or he is a person after 45 or 50 years who wants to live his life again with the same royalty or prestige. When a person from a middle-class family goes to a showroom it is a very tough task for them to choose a good and affordable bike.
Generally, the budget of a middle-class person for a bike ranges from 1 lakh to 2 lakhs. There are many good bikes out there in the market but, what are the "Top 5 Rs 1-2 lakh bikes in India?" Their are many main players in the race such as Royal Enfield classic 350, KTM Duke 200 , Yamaha R15v4, Bajaj Pulsar NS 200, TVS Ronin, Apache RTR 160, Gixxer , Royal Enfield Hunter and so on….. let us see which of them make it to the top 5 1-2 lakh bikes in India.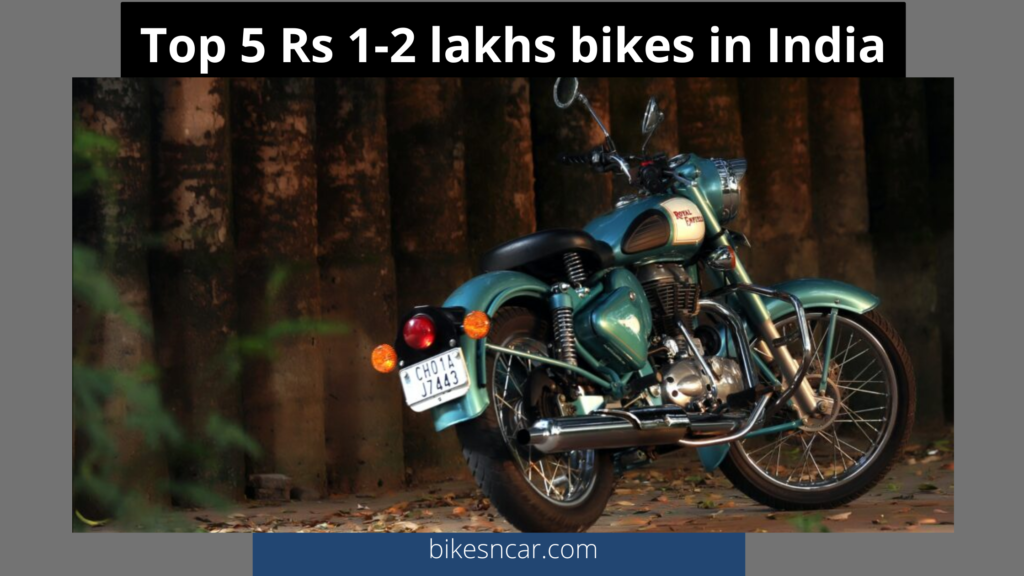 Bajaj Pulsar NS 200
Whenever a person thinks about durability, mileage and speed in a single bike first company that clicks his/her mind are Bajaj Pulsar. Bajaj has launched several versions of pulsar so far from Pulsar 125 to Pulsar 200Ns, 200RS. Pulsar has been one of the most dominating bikes in the market in this range. It surely makes it to the list of top 5 1-2 lakhs bikes in India.
Why you should buy this bike?
After the impact of post covid 19 inflations in the automobile industry, the Pulsar NS 200 still retails for around 1,39,700.
BS6 model of this bike offers slightly more power, torque and balance to the rider.
It has multiple colour options such as Burnt Red (matte finish), Metallic pearl white, Pewter grey, Plasma Grey, and Plasma Satin blue.
Its sharp muscular mass forward look attracts a lot of attention in teenage discussions.
The engine provides 24.5 PS at 9750 rpm and 18,5Nm at 8000Rmp
It has 300mm front and 230mm rear petal discs with single channel ABS as standard.
Some drawbacks felt by the rider: –
The new colour launched by Bajaj for this bike is not that much liked by the riders as they found it to be too loud.
Its old-style halogen headlamp with pilot lamps and a semi-digital instrument cluster.
It has been in continuous demand for so long so its features feel dated as compared to its competitors
KTM 200 Duke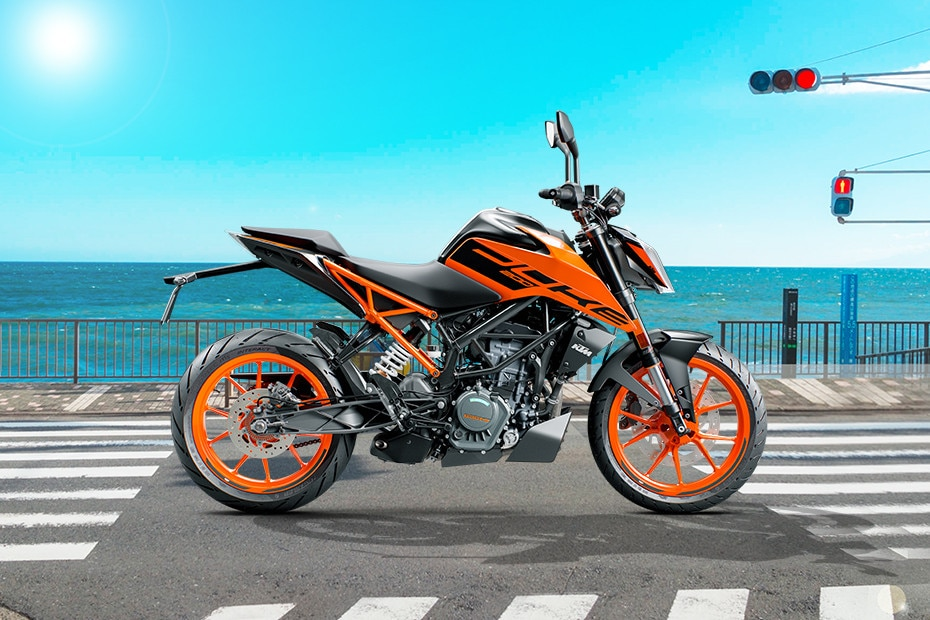 Whenever someone talks about a fast-good-looking affordable racing bike the first bike to suggest is the duke series. And if the budget of the person is under 2 lakhs, KTM 200 is a highly suggestable bike. Every teenager must have dreamt of having a Duke series bike.Duke is one of the top bikes in 1-2 lakh range.
So Why KTM 200 Duke is so much suggestable for an affordable racing bike?
Its powerful 199.5cc engine is key to its speed and pickup which generates 25.4bhp and a torque of 19.5Nm.
This sharp good-looking street bike is available at a starting price of Rs. 1,89,000 in India.
It is considered a lightweight bike in its category which weighs 159 kg and has a fuel tank capacity of 13.5 litres.
It is available with a BS6 model with single cylinder fuel injected motor.
It can accelerate from 0-100 kmph in just 9.2 seconds.
It gives a mileage of 35.6 km per L in the city.
It is not only fast rather it has good overall hydraulic balance in its top speed
The attractive design of this age still doesn't have and comparison in the market.
It comes with dual wheel ABS braking system which provides it extra balance
What could be better?…
Some of the riders have complained about the heating of the engine in traffic.
Its back seat can be uncomfortable during long-duration rides.
Its motor is a little snappy
Royal Enfield Classic 350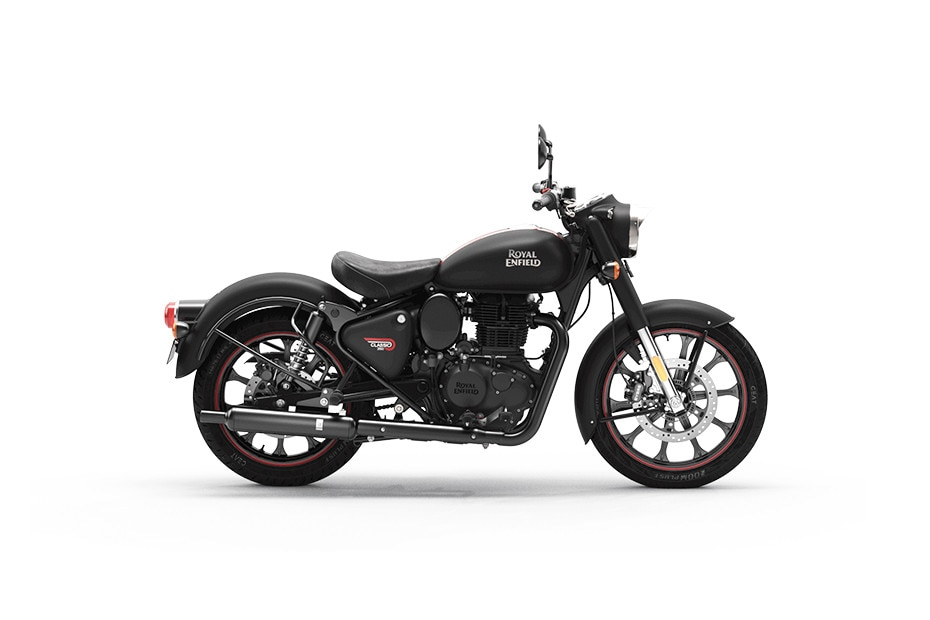 Every middle-class family once discussed having a bullet in their house. The bullet from the starting of the motorcycle market in India. It is not only a bike; it is a symbol of prestige and power. Its loud sound and heavy look are still its trademarks. Anyone can identify a Royal Enfield from a distance of over 300-400 m through its sound. Royal Enfield has introduced many models of this bike over years but the latest and one of the most popular bikes under 2 lakhs Rs is Royal Enfield Classic 350. May he be a father or a son it is popular in both generations. This top 5 1-2 lakh bike list would be incomplete without it.
Why Royal Enfield Classic 350 is so much recommendable?
It has a powerful 349.5 cc air-cooled engine which is the reason for its power.
In India, its price range starts from 1.9 lakhs to 2 lakhs.
It has a fuel capacity of 13 L.
It is a heavy bike but still manages to maintain its mileage of around 41.55 km in cities and 44kmpl on highway
It has a 4 strokes air cooled single cylinder engine with spark ignition which provides max power of 20.21PS at the rate of 6100 rpm and maximum torque of 27Nm at the rate of 4000rpm
It has a dual channel ABS braking system which provides excellent control on this heavy beast on applying break. it takes around 18m to stop on applying break at a speed of 60 kmph and about 45m to decelerate from 100 to 0 kmph.
It's not only heavy it's fast too. It has an acceleration of 9.53s to reach0-80kmph. It takes 16.30s to accelerate from 0-100kmph.
It has a front telescopic suspension of 41mmforks ad rear twin-tube emulsion shock absorbers with 6-step adjustable preload.
What are some drawbacks according to riders?
Some riders have faced an issue of false neutrality while riding.
This is not recommendable to a person who is diagnosed with heart-related problems due to its high vibration.
Some common electrical malfunction in turning indicator/console problems, frequent wear and tear of brake shoe
Yamaha R15 V4
Yamaha R15 must be one of the first racing bikes for the generation born in the 90s. Yamaha R15 is one of the most popular affordable stylish fast and heavy racing bikes in India. Its R15 V4 is the top-selling amongst them. These bikes are always on the Wishlist of any person going for a racing bike. This superbike is among the top bikes in India
But what is so special in it…..
The price of this racing bike ranges from Rs. 1,77,000 to 1,90,000 in India.
It provides a 155cc liquid-cooled single-cylinder engine which produces 18.4 PS power and 14.2 Nm of torque.
It takes 13.6 sec to accelerate from 0-100 kmph and 5.6 sec to accelerate from 0-60 kmph.
It has a 6speed gearbox featuring a slip and an assist clutch.
Its new USD forks give a new boost to its hardware.
It has a dual channel ABS which comes with a delta box frame, a preloaded adjustable mono-shock, disc brake on both ends.
It has a functional LED headlamp flanked by LED DRLs.
It has a new YZF-R1-inspired digital instrument consoled with Yamahas Y-connect app.
This digital system helps the rider to access or examine information like instantaneous fuel economy, intake air temperature, degree of throttle opening and rate of acceleration.
It offers 6 variants which are- R15 V4M, R15V4 racing blue, R15 V4 Dark knight, R15 V4 Metallic red, R15 V4 M World GP 60th Anniversary
What are some negative reviews to keep in mind?…..
Some riders have felt a slight drop in performance from the previous v3 version
Breaks are not up to the expectation.
TVS Ronin 225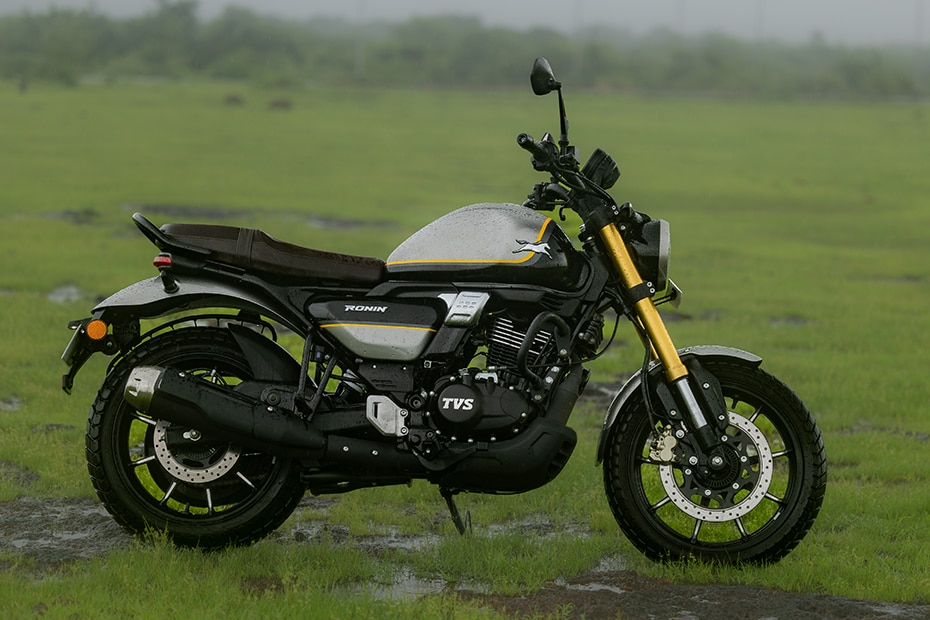 TVS Ronin is a good alternative if a person is looking for a heavy bike other than Royal Enfield. It is one of the most affordable, heavy bikes with good mileage in the market. Its powerful new design gives an upper hand to it in comparison to its competitor. This new competition in the market surely one of the top 1-2 lakh bikes in India.
What is the key feature of this bike?…..
It has a 225.5 cc air cooled 4 strokes single cylinder engine which provides massive power to this beast
Its powerful engine provides a maximum power of 20.4 PS at the rate of 7750 rpm and a torque of 19.93 Nm at the rate of 3750rpm.
Its huge tank provides a fuel storing capacity of 14L.
It comes with an advance digital console system with Bluetooth mobile connectivity which helps the rider to access and examine various things such as instantaneous fuel economy, intake air temperature, degree of throttle opening and rate of acceleration.
ABS mods help to adjust the ABS according to the condition of the weather and place.
It has a LED headlight, LED tail light and a LED turn signal lamp.
It has a front suspension of 41mm USD and a rear mono shock suspension with 7 adjustable preloads.
Drawbacks? ……
Its style and look are subjective some may like it and others may not.
This has only 5 gears whereas it's all its competitors at this range have 6 gears.
The price gap between single-tone and triple-tone models can be considered a drawback.
This is the list of top 1-2 lakh bikes in India but their are many other top bikes which have alsmost same specs as the above list. some of them are Pulsar 220, KTM duke 390, Royal Enfield hunter, Hero Pulse etc…..